Wiseco Pro Tru Pistons High Performance Forged Piston and Ring Kits
Wiseco takes quality and performance seriously, so every Wiseco Pro Tru piston set design is engineered and rigorously tested at their facility and in the field to insure that it will meet and exceed the expectations of our valued customers. Click here to go directly to the Wiseco Pro Tru Pistons online catalog Table of Contents
Wiseco has been a leader in the piston and performance parts industry for over 60 years. Wiseco manufacturers the finest aftermarket automotive forged pistons and performance parts. Wiseco has remained right at the forefront of technology in the constantly evolving performance automotive piston marketplace.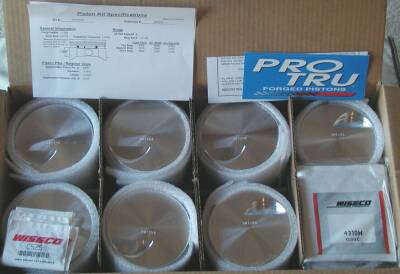 Wiseco Pro Tru Hi Performance Forged Piston Sets
Wiseco Pro Tru Piston Kits include strong but lightweight forged pistons with pressure-fed pin oiling, fully floating pins, oversized symmetrical valve pockets, pre-gapped plasma moly rings, and many other features not found on forged pistons in this price range.
Here at Campbell Enterprises we are proud to offer the entire high quality Wiseco Performance Products line to our customers. We are working to add Wiseco Pro Tru piston and accessory information, technical specifications and pricing to our website. Until we get the entire product line uploaded to our website, please use our online chat system, call or use our contact form for assistance, and we will be happy to help you. We offer great pricing and fast friendly sales and technical assistance and we are ready to help you with your Wiseco Pro Tru piston needs. We ship daily and are happy to ship worldwide.
Campbell Enterprises Wiseco Pro Tru Forged Piston Online Catalog
Pro Tru Piston Kits Table of Contents
Please click on a chapter subsection to go directly to the piston page you are interested in.
AMC
Buick
GN 3.8L Turbo
V6 Turbo Stroker Pistons
455
Chevrolet Chevy
183 / 3.0 L 4 cylinder
262 / 4.3 L 6 cylinder
305
327
Chrysler Dodge Mopar Plymouth
3.9 V6
340 Stroker
360 and 5.9 L Magnum
360 and 5.9 L Magnum Stroker
400
440
440 Stroker
Ford Mercury
302 Windsor
302 Windsor with TFS Twisted Wedge Heads
302 Windsor Stroker Pistons
351 Windsor
351 Windsor Stroker Pistons
427 FE Pistons
427 FE Stroker Pistons
428 FE and 427 FE using 428 FE crank
460
460 Stroker
Oldsmobile
Pontiac